Aanmelden
De tip van euro-boek.nl
Zoekfuncties
actueel
Gegevenspagina wordt geladen...
---
---
Resultaten zijn gesorteerd...
1
ISBN: 9789024728213
Erscheinungsdatum: 30.06.1983, Medium: Buch, Einband: Gebunden, Titel: Tree Root Systems and Their Mycorrhizas, Auflage: Reprinted from PLANT AND SOIL, 71, 1983, Redaktion: Atkinson, D. /… Meer...
Erscheinungsdatum: 30.06.1983, Medium: Buch, Einband: Gebunden, Titel: Tree Root Systems and Their Mycorrhizas, Auflage: Reprinted from PLANT AND SOIL, 71, 1983, Redaktion: Atkinson, D. // Bhat, K. K. S. // Coutts, M. P. // Mason, P. A. // Read, D. K., Verlag: Springer Netherlands // Springer Netherland, Sprache: Englisch, Rubrik: Botanik, Seiten: 540, Informationen: Book, Gewicht: 964 gr, Verkäufer: averdo Belletristik<
2
D. Atkinson; K.K.S. Bhat; M.P. Coutts; P.A. Mason; D.K. Read:
Tree Root Systems and Their Mycorrhizas
- gebonden uitgave, pocketboek
1983, ISBN: 9789024728213
Buch, Hardcover, Reprinted from PLANT AND SOIL, 71, 1983, [PU: Kluwer Academic Publishers], Kluwer Academic Publishers, 1983
3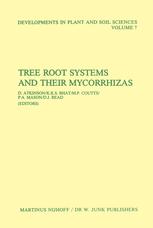 There is currently no description available Books > Life Sciences Hard cover, Springer Shop
4
1983, ISBN: 9789024728213
Reprinted from PLANT AND SOIL, 71, 1983, Hardcover, Buch, [PU: Kluwer Academic Publishers]
5
1983, ISBN: 9789024728213
Reprinted from PLANT AND SOIL, 71, 1983, Hardcover, Buch, [PU: Kluwer Academic Publishers]
---
Bijzonderheden over het boek
Proceedings of a Meeting of the IUFRO, Working Party on Root Physiology and Symbiosis
Gedetalleerde informatie over het boek. - Tree Root Systems and Their Mycorrhizas

EAN (ISBN-13): 9789024728213
ISBN (ISBN-10): 9024728215
Gebonden uitgave
pocket book
Verschijningsjaar: 1983
Uitgever: Kluwer Academic Publishers
528 Bladzijden
Gewicht: 0,925 kg
Taal: eng/Englisch
Boek bevindt zich in het datenbestand sinds 2007-11-07T09:04:09+01:00 (Amsterdam)
Detailpagina laatst gewijzigd op 2021-07-21T10:08:17+02:00 (Amsterdam)
ISBN/EAN: 9024728215
ISBN - alternatieve schrijfwijzen:
90-247-2821-5, 978-90-247-2821-3
---
Gegevens van de uitgever
Auteur: D. Atkinson; K.K.S. Bhat; M.P. Coutts; P.A. Mason; D.K. Read
Titel: Developments in Plant and Soil Sciences; Tree Root Systems and Their Mycorrhizas
Uitgeverij: Springer; Springer Netherland
525 Bladzijden
Verschijningsjaar: 1983-06-30
Dordrecht; NL
Gewicht: 2,050 kg
Taal: Engels
299,59 € (DE)
307,99 € (AT)
330,50 CHF (CH)
POD

BB; Book; Hardcover, Softcover / Biologie/Botanik; Pflanzenbiologie; Verstehen; Assimilat; Fungi; endodermis; metabolism; nitrogen; physiology; root architecture; root growth; root structure; roots; seedlings; B; Plant Pathology; Plant Sciences; Plant Pathology; Plant Science; Biomedical and Life Sciences; Botanik und Pflanzenwissenschaften; BC; EA
Researching the potential of forest tree mycorrhizae.- Fine roots and sheathing mycorrhizas: their formation, function and dynamics.- The growth, activity and distribution of the fruit tree root system.- Root development and configuration in intensively managed radiata pine plantations.- Effects of N fertilisation on populations of fine roots and mycorrhizas in spruce humus.- Seasonal variation of growth and development of the roots of five second-year conifer species in the nursery.- Root distribution of four Vitis cultivars.- Root turnover and productivity of coniferous forests.- The distribution and productivity of fine roots in boreal forests.- Root development and plantation establishment success.- Root growth capacity: relationship with field root growth and performance in outplanted jack pine and black spruce.- Effect of restricted watering and its combination with root pruning on root growth capacity, water status and foot reserves of Pinus caribaea var. hondurensis seedlings.- Morphogenesis of root systems of seedlings and cuttings of Quercus robur L..- Some aspects of the development of the endodermis and cortex of Tilia cordata and Picea sitchensis.- When is the structural root system determined in Sitka spruce?.- Differences between stem and root thickening at their junction in red pine.- The development of root systems analysed by growth rings.- Root architecture and tree stability.- Modelling root structure and stability.- The physiology of vesicular-arbuscular mycorrhizal roots.- Role of the host-arbuscule interface in the VA mycorrhizal symbiosis: ultracytological studies of processes involved in phosphate and carbohydrate exchange.- Studies of VA mycorrhizae in vitro: mycorrhizal synthesis of axenically propagated wild cherry (Prunus avium L.) plants.- The development of vesicular-arbuscular mycorrhizal infection in plant root systems.- The concept of succession in relation to the spread of sheathing mycorrhizal fungi on inoculated tree seedlings growing in unsterile soils.- Sequences and interactions of mycorrhizal fungi on birch.- Succession of mycorrhizal fungi on birch: infection of seedlings planted around mature trees.- Role of basidiospores as inocula of mycorrhizal fungi of birch.- Methods for synthesizing ectomycorrhizas and their effect on mycorrhizal development.- Apical meristems in mycorrhizal and uninfected roots of Calluna vulgaris (L.) Hull.- Responses of pine roots to E-strain ectendomycorrhizal fungi.- Role of Laccaria laccata in protecting primary roots of Douglas-fir from root rot.- First results of research on the competitivity of ectomycorrhizal fungi.- Ecto- and endomycorrhizal fungus associations with Quercus imbricaria L..- Effect of mycorrhizal inocula on the growth of Sitka spruce seedlings in different soils.- Changes in the mycorrhizal status of Sitka spruce following outplanting.- Inoculation of pines in a nursery with Pisolithus tinctorius and Thelephora terrestris in Korea.- The influence of mixed inocula on endomycorrhizal development.- Growth and survival of container-grown Pinus caribaea infected with various ectomycorrhizal fungi.- Influence of ectomycorrhizae on infectivity of Pythium-infested soils and substrates.- Effect of pesticides on ectomycorrhizae of Pinus sylvestris seedlings.- Mycorrhiza in some desert plant species in Algeria.- Environmental factors determining the distribution of Suillus luteus fructifications in a Pinus radiata grazing-forest plantations.- Nutrient inflows into apple roots.- Phosphorus absorption (32P) by apple trees under drip irrigation as influenced by the physical properties of the soil.- Responses of loblolly pine (mesophyte) and swamp tupelo (hydrophyte) seedlings to soil flooding and phosphorus.- Root surface/leaf area ratios in arctic dwarf shrubs.- Nutrient reserves in roots of fruit trees, in particular carbohydrates and nitrogen.- Nitrogen nutrition, photosynthesis and carbon allocation in ectomycorrhizal pine.- The structure and function of mycelial systems of ectomycorrhizal roots with special reference to their role in forming inter-plant connections and providing pathways for assimilate and water transport.- Effects of ammonium and nitrate on growth and nitrogen uptake by mycorrhizal Douglas-fir seedlings.- Phosphatase production by mycorrhizal fungi.- Increased uptake of anions by plants with vesicular-arbuscular mycorrhizas.- Phosphorus-31 nuclear magnetic resonance study of polyphosphate metabolism in intact extomycorrhizal fungi.- Root growth and litter decomposition in a coffee plantation under shade trees.- Growth and spatial distribution of nutrient-absorbing organs: selective exploitation of soil heterogeneity.- Rooting of Sitka spruce cuttings from hedges, and after chilling 495.- Influence of auxin and mycorrhizal fungi on the in vitro formation and growth of Pinus pinaster roots.- A note on modelling methods for studies of ectomycorrhizal systems507.- An overview of the meeting: Synthesis — progress and challenges in work on tree root systems and their mycorrhizas.
---
Andere boeken die eventueel grote overeenkomsten met dit boek kunnen hebben:
---
< naar Archief...
---